OPHEO Arrival Monitor
for warehouses and order picking
In addition to the recipients of goods (end customers), the company's own employees in the warehouse and shipping department who are responsible for the provision of goods also have a legitimate interest in ETA information.
With the Arrival Monitor, OPHEO users can take the added value of Predictive Planning and ETA data to optimize their own operational processes. Loading processes of own and third-party trucks can be made much more transparent and plannable in warehouses and during order picking. The positive consequences are shorter loading times and a minimization of waiting times.
Ideally, you place the Arrival Monitor in the warehouse or in another accessible and exposed location, visible from a fair distance. Employees can easily see which vehicle is returning to the site at what time—without needing in-depth knowledge of the OPHEO software. This drastically shortens maintenance times.
Another positive effect of using the Arrival Monitor is the space gained in the staging area. Thanks to precise forecasts and the associated order of loading, only the items immediately scheduled for the next loading have to be placed there. The Arrival Monitor provides your pickers with an effective tool that automatically prioritizes the orders planned for the day.
Your
advantages

at a glance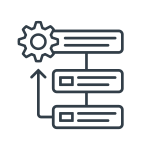 Optimization of the operating processes in your own warehouse
Optimization of the staging area
Transparency for employees outside of the planning department